Aclaratoria: Estoy colaborando, no he recibido compensación económica por este post y yo cubro todos mis gastos para ir al evento.
English version HERE.
Del 9 al 13 de Abril se celebra en Miami, el 4to. evento de Hispanicize. Como blogger debes saber la importancia de salir del computador, socializar y estrecharle la mano a relacionistas públicos que vendrán desde diferentes puntos del país para conocerte y trabajar contigo. En 5 días podrás tuitear, "check in", tomar fotos, "facebukear", aprender nuevas herramientas de blogging y conocer cuanta gente le apasione las redes sociales, todos bajo un mismo techo, además de codearte con periodistas, celebridades y lo mejor de la industria.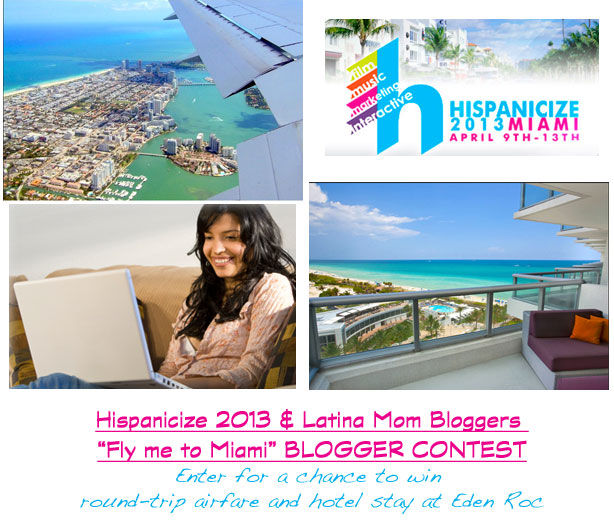 Hispanicize junto a Latina Mom Bloggers quiere llevarte a Miami, para que puedas asistir a Hispanicize 2013.
Los requisitos para participar son:
Ser blogger latino- hombre o mujer que escriba en inglés, español, bilingüe o spanglish.
Tener un blog activo y estar blogueando por más de 6 meses.
Solo se aceptará (1) post por blog
Debes ser el dueño/editor de un blog y no ser colaborador o bloguero invitado.
El premio no es transferible ni caneajable por dinero.
Para reclamar el premio debes estar 100% seguro que asistirás a Hispanicize 2013.
Seguir a @Hispanicize en Twitter y "Like" su pagina en Facebook.
Colocar un badge del evento en tu blog.
Concurso: Escribe un post de 200 palabras acerca de por qué te gustaría ir a Hispanicize 2013 y a cuales paneles te gustaría asistir (ver agenda). Una vez listo, deja un comentario en mi blog con el enlace de tu post y tus datos (Tu nombre, la ciudad/estado donde vives, el nombre de tu blog). El post puede ser en inglés, español o bilingüe.
2. Tuitea sobre este concurso con tu escrito. You can use this sample tweet:
     I just entered to win a free pass to @Hispanicize 2013. http://bit.lyvbggg (<–this links to your blog story about the contest) #Hispz13 @Mcontemporanea ( Make sure you include hashtag #Hispz13)
Premio: 2 pases para el evento, 1 noche en el Hotel Eden Roc, 1 boleto aéreo de ida y vuelta.
Termina el 11 de Marzo de 2013. El 12 de Marzo se anuncia al ganador.
*No es una rifa, independientemente se seleccionará a criterio después de revisar los posts.
¡Nos vemos en Miami!