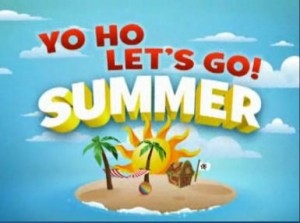 Disney Junior agrega nuevas ideas interactivas para niños y padres enfocado a su programación con la multi-plataforma  "Yo Ho, Let's Go Summer!" evento liderizado por la serie de TV #1 para niños de  2-5 años y uno de los shows más vistos en conjunto por las mamás y sus hijos en edad prescolar , "Jake and the Never Land Pirates.             " The "Yo Ho, Let's Go Summer!" esto se podrá ver a través de todo Disney Junior (Disney Junior On Demand, Mobile y iTunes).

Empezando el lunes 13 de Junio hasta el 26 de Agosto Jake and his pirate crew's gold doubloons aparecerán a lo largo y durante  el bloque de programas de Disney Channel. Los niños junto a sus papás están invitados a ir a www.DisneyJunior.com/Summer, y colocar el numero de gold doubloons que han visto durante la semana y además pueden encontrar tesoros, ver nuevos episodios, juegos y actividades. Cada viernes empezando el 17 de Junio  (9:00 a.m., ET/PT), Disney Junior tendrá nuevos episodios de tus series favoritas en TV y online. Los padres también pueden descargar " gold doubloons" para que sus hijos los decoren, después tomar una foto y subirlas al website www.DisneyJunior.com/Summer . Muchas de estas imagenes serán usadas durante los programas de Disney Junior.
Empezando cada viernes a partir del Jueves 17 de Junio, Tori Spelling será invitada especial como the Pirate Princess en "Jake and the Never Land Pirates, verás a Martian Mickey en el Clubhouse en "Mickey Mouse Clubhouse," Jueves,  24 de Junio; episódios sobre salud y ambiente con temas de comida de "Handy Manny," Jueves 8 de Julio y Viernes, 5 de Junio, respectivamente; y un nuevo capitulo de "Jake and the Never Land Pirates," el cual incluye a Jake y su equipo descubriendo una misteriosa puerta de piedra que lo lleva a un tesoro secreto, Viernes 26 de Agosto.
Aclaratoria: Recibi una caja con un bolso, pelota y botella de agua de Disney Junior para el verano.