Ya estamos en Diciembre y muchos de mis vecinos ya decoraron sus casas trayendo al vecindario todo el espíritu navideño. Este fin de semana nos tocó a nosotros, aunque no nos gusta ser tan "escandalosos" en cuanto a luces quise poner un toque discreto pero festivo a la entrada de la casa, así que fuimos nada más y nada menos que a The Home Depot.
Mis niños listos para comprar y ayudar a mami en sus decisiones.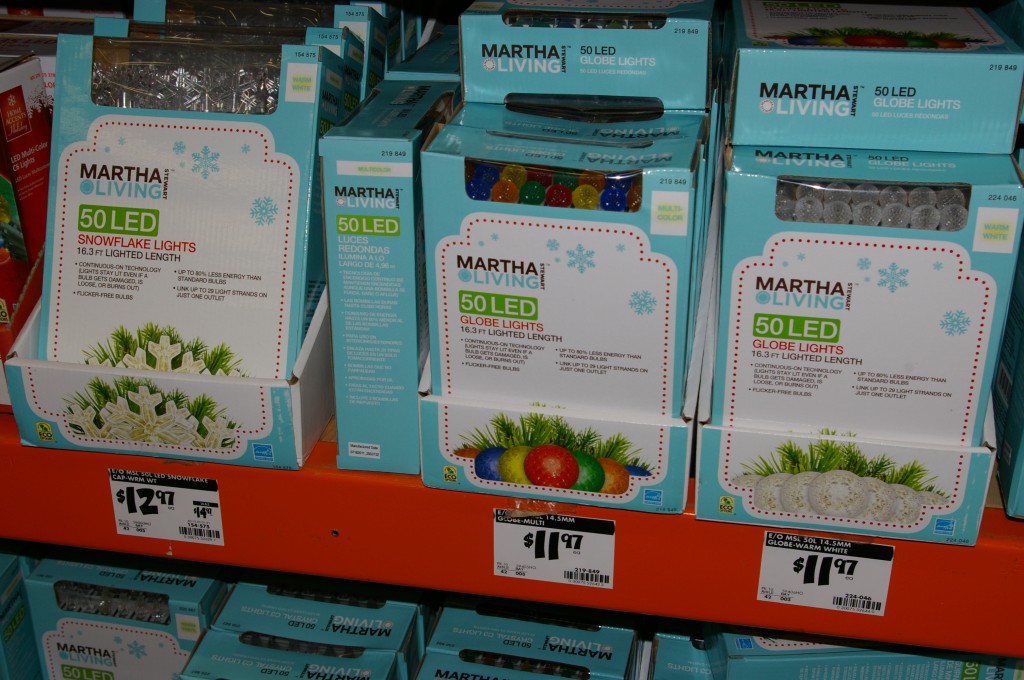 Luces LED : Holiday Home Accents, Martha Stewart Living, EcoSmart, GE and Sylvania.
Con tantas opciones y tipos de decoración para Navidad para escoger, aveces es como que demasiado coordinar todo. Sarah Fishburne, directora de diseño y tendencias de Home Depot, ofrece sus tips en como organizar tu casa para que la arregles como una experta:
Siempre prueba las luces antes de colocarlas en el arbolito para así evitar todo el esfuerzo en caso de que no funcionen.
Usa mas adornos y guirnaldas en sitios inusuales. Pon algunas en un plato hondo o en un envase de vidrio como centro de mesa.
Mueve o acomoda tus muebles en otras áreas de la casa así el arbolito o las botas en la chimenea serán el punto focal de tu sala.
Coloca arboles de Navidad en diferentes áreas de la casa. Si tienes un pino grande en el salón principal trata de poner uno mas pequeño en el comedor o al final de la mesa.
Las guirnaldas y adornos más grandes y pesados deben ser colgados en la parte trasera del arbolito para dar más estabilidad.
Incorpora lazos y cintas para darle a tu arbolito un toque único, lleno de color.
Esta bien mezclar hojas y ramas de pino natural con flores artificiales y adornos.
The Home Depot también ofrece todo lo relacionado a decoración navideña en Español.
Para ayudar a realizar tus proyectos decorativos más fáciles y divertidos para tu familia, visita www.homedepot.com/holiday antes de visitar la tienda The Home Depot. Ahi encontraras toda la información que necesitas e inclusive videos de como crear adornos y otros divertidos proyectos.
Decorar la casa para la temporada navideña es mas fácil de lo que uno cree cuando compras en The Home Depot. Desde luces LED que ahorran energía, guirnaldas y adornos que no se rompen de la marca Martha Stewart Living, todo para decorar el jardín y el arbolito. The Home Depot es el lugar para ir cuando quieres decorar tu casa de Navidad.
Necesitaba el arbolito perfecto para la entrada de la casa y lo encontramos…
Mira lo que compramos para decorar la puerta: un arbolito, una corona y más
La alfombra que compré, me encantó por la simplicidad, el material y la calidad
Colocando la corona navideña
Aclaratoria: Estoy participando en una campaña con remuneración económica junto a Latina Mom Bloggers. Las opiniones expresadas aquí son mías.
SORTEO: Gana una tarjeta de regalo de $50 de The Home Depot para que puedas complementar tus compras navideñas.
Visita www.homedepot.com/holiday y comenta aquí en mi blog que te gustaria comprar con $50 en The Home Depot. No olvides dejar tu email para contactarte por si ganas.

Like HomeDepot y mi página Mama.Contemporanea en Facebook (esta es la oficial)

Suscribete para recibir mis emails así podrás saber de fabulosos sorteos como este. Debes confirmarlo una vez llegue a tu inbox.
Suscribete a mi canal de Youtube.
Sigue a @HomeDepot en twitter junto al hashtag #fiestashomedepot
Deja un comentario por cada paso que hagas. Cada comentario es una oportunidad para ganar. Solo se aceptan comentarios válidos.
La ganadora será elegida al azar utilizando Random.org
Termina el 12 de Diciembre de 2011. Solo para quienes viven en USA. No PO boxes. Suerte!