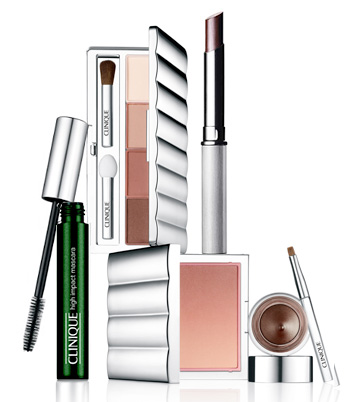 Para este Otoño ya está disponible el New Black Clinique Black Honey. La lujosa presentación en plata es increíble y hace un contraste maravilloso con los tonos del maquillaje en si, todo con el glamour y simplicidad que esta marca nos tiene acostumbrados. The New Black Collection viene del ya famoso, único y clásico lápiz labial "Black Honey Almost Lipstick" que se introdujo por primera vez en 1971 convirtiendose así en un éxito y un culto para muchas mujeres.
Hoy, un simple labial ha inspirado una colección completa que va desde sombras, rubor, rimel, pintura de labios hasta delineador de ojos, que se ve oscuro pero con un resultado mucho más claro.
Tengo que mencionar que estos productos de edición limitada están  divinos, dan un toque sofisticado pero a la vez con un acabado perfecto y un brillo tenue. Los tonos son tan versátiles que pueden ser usados en cualquier tipo de piel. Me gusta muchísimo el blush que va degradando de intenso a un color mas bajo para difuminar y dar un look impecable. Clinique nunca deja de sorprenderme con cada una de sus innovaciones.
Qué te parece el New Black Collection de Clinique?
Aclaratoria: Recibí The New Black Collection de Clinique . Mi opinión es honesta, no obtuve compensación económica.