Pensar en decorar el cuarto del bebé puede ser tan emocionante como agotador; así que Fisher-Price y Sherwin-Williams se asociaron para crear una innovadora manera de diseñar donde se encuentran inspiración, diversión y economía.
"Room to Bloom" es una función para diseñar online con la que se coordinan los tonos de pintura y los patrones para la pared. Visita www.fisher-price.com/roomtobloom y sigue estos pasos:
1. Elegir colección Baby Gear. Hay ocho lindísimas colecciones de artículos para bebés como la de My Little Snugabunny, de tonos sutiles y muy a la moda como la Coco Sorbet, y coloridas como la Luv U Zoo y más.
2. Seleccionar diseño para la pared. Es fácil visualizar paredes lisas, patrones de puntitos, franjas verticales u horizontales, cuadriculados y rombos, todo sin marearse ni fastidiarse.
3. Encontrar los colores de pintura. Con esta paleta, hay un conjunto de tonos para cada gusto: 16 colores de pintura por colección, minuciosa selección de los expertos de Sherwin-Williams y complemento perfecto para las ocho colecciones Baby Gear; una gama que va desde lo más neutro hasta lo más estimulante.
4. Guardar y compartir.- Con diseños tan bonitos, a los padres que esperan bebé les cuesta trabajo aguantarse las ganas de presumir. Basta con guardar los diseños preliminares y luego imprimirlos o enviarlos por email a amigos y familiares. Incluso se pueden publicar en Facebook.
Que les parece? verdad que está buenísimo y super fácil! Me encanta por que puedes ver de forma virtual y darte una idea de como quedara el cuarto del bebé de la casa, además de poder jugar un poco con los colores.
SORTEO: En mi blog Mamá Contemporánea un afortunado ganador se llevará un Luv U Zoo  SpaceSaver Swing & Seat de Fisher Price ($75)  y una tarjeta de regalo de $50 de Sherwin-Williams. Para participar debes hacer lo siguiente:
Comenta en mi blog como quieres decorar el cuarto de tu bebé, no olvides escribir tu email para contáctarte por si ganas, y para ayudarte puedes utilizar "Room to Bloom" www.fisher-price.com/roomtobloom.

Invita a una amiga a participar en el sorteo (opcional)
Like la página de Mamá Contemporánea en Facebook.
Suscribete para recibir mis emails así podrás saber de fabulosos sorteos como este. Debes confirmarlo una vez llegue a tu inbox.
Puedes escribir un comentario por cada paso que hagas, ejm: "me suscribí a tus emails"…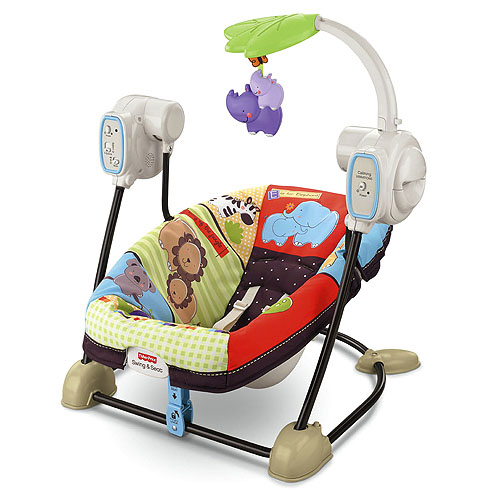 Termina el 24 de Noviembre de 2011. Solo para quienes viven en USA. No P.O boxes. Buena suerte!
Aclaratoria: Mi opinión es honesta, este post no ha sido editado por terceros, no obtuve compensación económica.